Make stickers part of your campaigns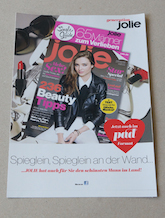 A small sticker can turn almost any surface into an advertising space within seconds. Using non-permanent vinyls or glue-free adhesive materials, this can also be limited to a specific time (and canmpaign) if required. In addition or as stand-alone campaign, advertising stickers can give more value to your marketing efforts.
An actually small price per piece meets with high visibility, multiplying effects (merchandise / fan stickers) and the ability to target your ad stickers on specific areas. This makes advertising stickers a marketing tool of high value and advertising potential.
Stickers at your Point of Sale
You have special offers every week or month or your want to introduce a brand new product line? Shop windows can be used very efficient for both, showing your products and carrying advertising stickers that you can easily change when a new campaign is about to start. Floor stickers are another way of using adhesive labels for your advertisements.
Guerilla Marketing
Advertising stickers can spread widely if they are accepted by your target audience. In best cases, your campaign spreads to places where your potential customers go, that you did not imagine before. Advertise with car stickers, fan stickers and more to reach those who identify with your brand.
Merchandise and give-away stickers
Besides printing normal advertisign stickers, we also offer you a wide service to convert and make up your printed advertising stickers for example in ready-made bundles. We can create various packages that give your customers the experience of additional value. Let your brand literally stick with your customers. What if your customers would spread your fan packages and advertising stickers and communicate your brand on places your campaigns could not go?
If you have any questions in advertising stickers or sticker campaigns, use the opportunity and get in contact with someone who knows about sticker culture and has done many campaigns and guerilla marketing with advertising stickers.
Other markets for advertising stickers
For advertising stickers, the following product types might be of interest for you:
Car Decals / Bumber Stickers · Stickersheets · Neon Stickers · Sticker Postcards